Lincoln Bicentennial Courses

Instructor: Jason Hansen
Semester: Spring 2009
This course will examine the use of visual symbols (pictures, portraits, statutes, etc.) of great leaders such as Abraham Lincoln to build consensus notions of a national community amid the challenges presented by civil war or the creation of empire. In the first part of the seminar, we will discuss what we mean by "visual culture", and follow with three case studies in the United States (Lincoln), Germany (Bismarck) and Britain (Queen Victoria). In the second half of the course, we will move to a more thematic approach, looking at various types of visual culture. In the end, students will be expected to produce a research paper using primary source documents (as part of our research, we will also take a field trip to the Lincoln Museum in Springfield). Potential topics are not limited to our particular case studies, but may include examinations of any figure from any period.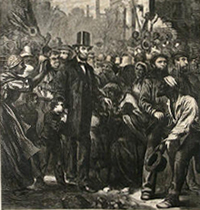 Instructor: Brandon Mills
Semester: Fall 2008
Over the last century and a half, Abraham Lincoln has become one of the most enduring symbols of the United States. While Lincoln's presidency was very polarizing both before and after his death, since then his stature has only risen and he is embraced by Americans of all political persuasions. Lincoln's popularity can partially be attributed to the aura of myth that has surrounded his life; he has been regarded as a "Man of the People," a "Self-Made Man," the "Savior of the Union," and "The Great Emancipator." These collective memories of Lincoln have worked to serve the psychic needs of the United States' national identity. They have contributed to codifying the attributes of a model citizenry, indicated the enduring strength of United States nationalism, and offered the promise of racial transcendence. To unpack these complex meanings, this class will investigate some of the most persistent ways that Lincoln has been characterized. We will explore both their meanings in the contemporary moment as well as what they reveal and obscure about the era in which Lincoln lived.