General Websites for Teachers and Students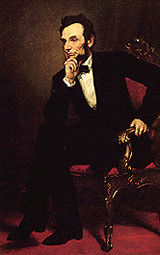 Lincoln Studies: Abraham Lincoln and the American Civil War

Maintained by an Illinois historian, this blog on Lincoln-related news combines a thorough document archive, set of book reviews, discussion board and up-to-date announcements on Lincoln-related events in person and on television. The research links and document archive may be especially helpful for student research projects and class work with primary documents.
Abraham Lincoln Online: Speeches and Writings
This website, Abraham Lincoln Online, includes links to various primary documents, mostly selected from The Collected Works of Abraham Lincoln (see below), and focuses primarily on letters, speeches, quotations, and writings. These sources are transcribed and annotated – not images of originals. The sources are divided both by type and by topic – some key topics include Lincoln's views on education, on the legal profession, on military tribunals, and on religion. A particularly interesting link, "Lincoln Never Said That," debunks several quotations and documents erroneously attributed to him. In addition to this extensive document archive, the website includes extensive links to "Classroom Resources," a database of various K-12 lesson plans, curriculum, field trip ideas, and websites for students
Abraham Lincoln Online: Educational Links

Some examples of lesson plans include examining Lincoln's position on slavery, activities about managing the 1860 campaign, and learning about the significance of the Lincoln-Douglas Debates.
The Collected Works of Abraham Lincoln

The Collected Works of Abraham Lincoln, edited by Roy P. Basler, is a the result of a five-year project of transcribing and annotating Lincoln's correspondence, speeches, and writings. The online database, led by the Abraham Lincoln Association, allows searching by keywords, phrases, title, author, Boolean searching, and proximity, as well as permits browsing by document type. It also includes a feature that functions like a word index, allowing users to see how many times a particular word, eg. "Gettysburg" or "justice," appears in the documents. This website contains the full Collected Works as well as various sources written about the president, both contemporary to him and after his death. Some of these contain images of the original text.
Illinois Legacy Online

Illinois Legacy Online contains a digital archive of Illinois history culled from both the Illinois Historic Preservation Agency and the Abraham Lincoln Presidential Library and Museum. The sources provided are digital images of documents – not transcribed textual documents – that requires a browser plug-in to view properly. The documents are linked to from introductory pages that offer brief descriptions. The catalog of documents can be searched much like a library catalog, by keyword, title, date, author, subject, for example. Such significant documents as the Gettysburg Address, in Lincoln's handwriting, can be viewed here, as well as a wealth of his writings and correspondence.
Teaching American History

TeachingAmericanHistory.org is a website devoted to provided resources, support, workshops, grants, and educational opportunities to history teachers through distance learning, universities, and private institutions. The "Document Library" contains primary sources, website links, speeches, letters, books, and articles about key eras, events, and figures in American history, and is easy to browse by subject. Documents are transcribed and easily printable. Sources related to Lincoln
Teaching American History: Abraham Lincoln

stretch back into the 1830s and through the Civil War period. The entire text of the Lincoln-Douglas debates is also included. Multimedia resources include online lectures about Lincoln by history teachers and scholars on such topics as the Emancipation Proclamation, civil liberties, and language.
USHistorySite.com

USHistorySite.com is a website to aid teachers and students of American history. It includes primary sources, introductory pieces, timelines, historical quotes, lesson plans, and other teacher resources and links. One strength of this site is that it includes various kinds of resources about a given topic collected on one page. For example, the page on the Gettysburg Address
The Library of Congress: The Gettysburg Address Exhibit

includes links to drafts of the speech (both images and transcriptions), related documents such as Lincoln's invitation to Gettysburg, introductory analysis and context written by teachers and scholars, photographs of Lincoln, and links to outside web resources such as the Library of Congress. It also includes information about how the original documents have been preserved, thus adding a public history component for analysis. A section devoted to Lincoln
The Abraham Lincoln Research Site
The site is divided into three main sections, Abraham Lincoln's Assassination, the Abraham Lincoln Research Site, and the Mary Todd Lincoln Research Site. The first has information on the assassination itself, including the whereabouts and activities of John Wilkes Booth on the night of the assassination, the trial of those arrested (including one woman), the soldier who shot Booth and photographs. The research section has information pertaining to Lincoln and his family including a controversy over the Lincoln penny, an accounting of the insanity trial of Lincoln's wife and a photo of Lincoln at Gettysburg. The section on Mrs. Lincoln discusses her experiences as first lady, and the impact witnessing her husband's assassination had on her life. The author also volunteers to discuss the case or answer specific questions via e-mail. A lot of fascinating information here for anyone interested in the assassination or even with a general curiosity.